It's official – The Marbella property market is in full recovery. In fact, the Spanish property market, which includes all of Andalucia is really in full swing. So much has happened over the past couple of years, but more so in 2017. One thing that stood out, and helped the Spanish economy was the record breaking tourism. For the 5th straight year, Marbella and the Costa del Sol saw millions of tourists' land on its soil.
Record breaking tourism in Andalucia for 5th consecutive year
The Andalucian Junta, released the astonishing tourism figures, reporting that between June and September there were 25 million overnight stays in the area. Tourists destinations in Andalucia saw 7.8 million visitors in total, a 2% rise. The Instituto Nacional de Estadistica (INE) revealed that September last year was the best in history, even better than August 2009 and 2010.
The minister for Andalusian Tourism, Francisco Javier Fernandez said the rate of employment in tourist industries grew by 5% last month.
"This figure means that employment is not threatened outside of high season. Now we are going to make an effort to ensure that this keeps going in October and November, up until the Christmas season", he said.
Tourism brought in 7 billion to the Costa del Sol this past summer
There is no denying that over the last decade, Spain has seen its share of ups and downs when it comes to the property market. Although some regions are recovering a bit slower than others, Marbella properties for sale is still definitely on the up. This means, despite a looming referendum, falling European markets and way too many general elections, Marbella property is still standing strong.
Marbella properties are attracting all sorts of different buyers
First, we should explain that the area of Marbella includes many different property areas; which includes Nueva Andalucia property for sale, Golden Mile property for sale, and La Zagaleta properties too. Marbella is a bustling cosmopolitan ocean side city, and garners all the attention on the Costa del Sol.
However, when properties were at their highest price in 2007, a sudden stop in the market created a bottled-up demand, which meant international buyers waiting for the perfect time to buy property on the Costa del Sol eventually found it in 2011. Therefore, a surge of buyers entered the market hoping to grab the best possible deal, and they certainly did.
This of course resulted in a rise, which lead to an increase of 28% sales in 2014. What followed next, over a few more years is how we've now come to our full property market recovery. Couple that with the record breaking tourism, and the entire country is seeing a new dawn. Economic growth, more jobs and even international buyers from the likes of Canada and the U.S.A are taking advantage of holiday homes in Marbella, apartments in Nueva Andalucia and so on.
Even after the Brexit vote fears took hold of many agents, wondering how this would affect the property market. With a major decline in the currency exchange, it didn't stop British buyers or holiday makers for that matter. In fact, most of Mibro International Properties clients are from the UK.
Costa del Sol properties are attracting all sorts of different buyers, and especially last year. These buyers all fall within different price ranges as well. Prime land prices are rising as the availability reduces, which is why we keep telling you that NOW is the time to buy property on the Costa del Sol.
Marbella, Nueva Andalucia and Puerto Banus all have a luxury reputation. With that said, these areas are attracting sophisticated and demanding property hunters. We've got our high-end buyers, scooping up luxury and high-quality properties for between 1 million and 5 million euros. However, to dollar is not the only option the Costa del Sol property market has to offer – properties are selling at all budgets from €100,000 and up.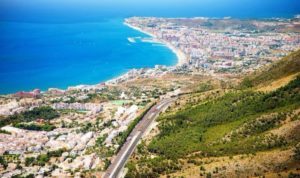 We've seen a major rise in affluent buyers and not only from the UK. There are still a number of European cash buyers making an appearance with countries such as Holland, Belgium, France and Scandinavia with Norway leading the way. We've also noticed that home buyers are looking for modern and contemporary apartments and villas. The biggest wish list we've seen from clients is your typical white washed, open plan design and of course, modern kitchens. Also appearing on the Marbella property wish list, especially in the last two years is home cinemas, games room and high end technology like fully automated systems, modern lighting and 24 hour security.
Fully property recovery means higher quality
With the Spanish property market well on its way in 2018, new developments are being planned and designed to the highest standards. There are also several new developments in Estepona on sale now, and many more in phase 1 completion. The prime residential activity however, is at its best in Marbella with prices that are simply unbeatable. Beach front properties in Estepona for example are still maintain their popularity, and Estepona has seen a major uptick in property buyers. Some are even going as far as claiming that Estepona might just be the new Marbella!
The point is developers are today are adapting their properties to suit the emerging clientele with carefully executed new builds that include luxury to please all property buyers at all levels.
New Developments for sale on the Costa del Sol – the past is in the past
We remember what it was like when developments were built at what seemed the speed of light on the Costa del Sol. Those days are over, and lessons have been learned. Quality and names, we can trust is what is taking place across the Costa del Sol today. So, Marbella is still standing on its own two feet and its market will certainly continue to grow. Its activity is becoming solid and the demand for new properties is moving in all areas of the price range.
Finally, and thanks in part to record breaking tourism, the rental property market was also in the spotlight in 2017. The 'boom' of holiday rentals has influenced the upward growth of residential rental income, especially in certain locations that are a magnet for tourism – like Marbella!
The latest data showed an average monthly income from rental property of 752 euros. This represents growth of 13.08% compared to October 2016. Some are predicting that the national average rental income could be above 800 euros in 2018.
Get in touch toady! We've got properties for sale in Nueva Andalucia, properties for sale in Marbella and luxury properties for sale in Puerto Banus you don't want to miss out on.