WHAT IS INTERIOR DESIGN?
Interior design is the art and science of enhancing the interior of a building to achieve a healthier and more aesthetically pleasing environment for the people using the space. An interior designer is someone who plans, researches, coordinates, and manages such enhancement projects.
The purpose of interior design is ordinarily to create a place that is both comfy and appealing, and often catered particularly to the requirements and desires of the person employing the interior designer
WHAT ARE INTERIOR DESIGNERS?
Interior designers make interior spaces functional, safe, and beautiful by determining space requirements and selecting decorative items, such as colours, lighting, and materials. They read blueprints and must be aware of building codes and inspection regulations, as well as universal accessibility standards.
Jonty Guadalmina
Jonty, Interior designer in Guadalmina, SpainI asked Jonty for a short statement from you about being an interior designer on the coast and this is what he said,"25 years in the industry has given me so many styles to live & work through – however the trends right now have to be my most favourite yet!  We are so advanced with design, so fabrics, wallpapers, lighting and furniture are the best we have ever seen…styles are mixed together so this really is a great time to push the boundaries and make that interior pop!"
When asked for an idea on how little you can spend to add a touch of glamour to your new home, Jonty replied "Add black in to your homes whether in cushions, accessories or spraying your boring white doors!"
For more information see http://www.jontylewis.com/
 WHAT ARE THE ADVANTAGES OF INTERIOR DESIGN?
Their knowledge.
The mere fact that interior designers have studied about the field is already enough reason to trust them on interior design matters. They have the know-hows and the skills on what to do with your home. You can tell them what you want and they can help you achieve a beautiful home interior. Interior designing is their field of expertise, so you do not have to worry. These people are professionals and would always give their best in every project since that is what they love to do and it is how they make a living.
You get what you expect.
When we decide to enlist the help of an interior designer we usually have an idea of what we want, but just don't know how to achieve the look.  The interior design will take charge of all that and no doubt improve your original vision.
You can achieve an energy efficient home.
If, like many, you are concerned for the environment, your interior designer will know what flooring to use, light fittings etc to make your home more "green"
It will save time.
Busy juggling family, friends and work? Then an interior designer will do the hard work for you.  They can put together ideas and show you a selection of items and all you have to do is make a final decision.  It couldn´t be easier!
They know good colour combinations.
Most people only consider bland neutral colours when decorating a room, an interior design can add a splash of colour of use a combination of colours to completely transform the space.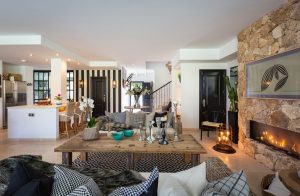 Get the right furniture.
Ever wonder where to start?  Which store or online page to look at?  Then you find something you like but not sure it will fit, will the material be right for the interior?  Save yourself the trouble and let someone else have the stress!
Accessories and decorations.
So the furniture has been chosen, now add a touch of glamour!  Again, where do you start?  Where can you go to get a better price?  Want an unusual centre piece?  All these can be answered quickly and easily by an interior designer.
There are so many advantages to hiring an interior designer and it will be well worth the money, whether it is to make your home standout or utilizing the maximum amount of space you have, no job is too big or too small for an interior designer and it will add greater monetary value if and when you decide to sell/rent in the future.
Contact us for more details www.mibrointernational.com
952 908 823
All photo´s provided by Jonty